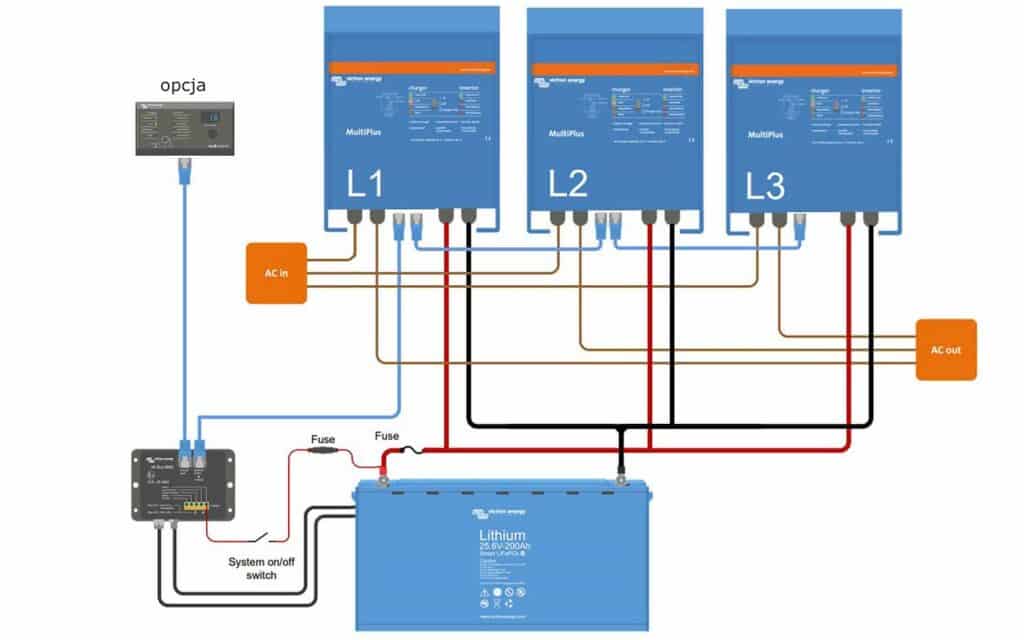 Victron Energy's energy storage has two main tasks. The first is the accumulation of electricity produced by ongrid solar power plants. No matter what manufacturer our network power plant is, then use the accumulated energy to power the house and prevent it from being sent to the energy company.

The second aspect is the possibility of powering the entire house with UPS function. On the MultiPlus-II GX device, we can freely set the percentage of the amount of energy devoted to the functions of maintaining the power supply in the event of a complete power cut. The offered energy storage is based 100% on the products of the renowned Dutch company Victron Energy known for the highest quality and durability.

The set includes extremely durable and lightweight LiFePO4 batteries in the smart version with full monitoring and an advanced BMS system cooperating with an island voltage converter. The energy storage system is equipped with a managing computer, thanks to which, using the Victron Connect application or via the VRM Portal website, it is possible to configure it by the customer depending on his preferences. The devices of the MultiPlus-II GX series are the most advanced and scalable devices available on the world market.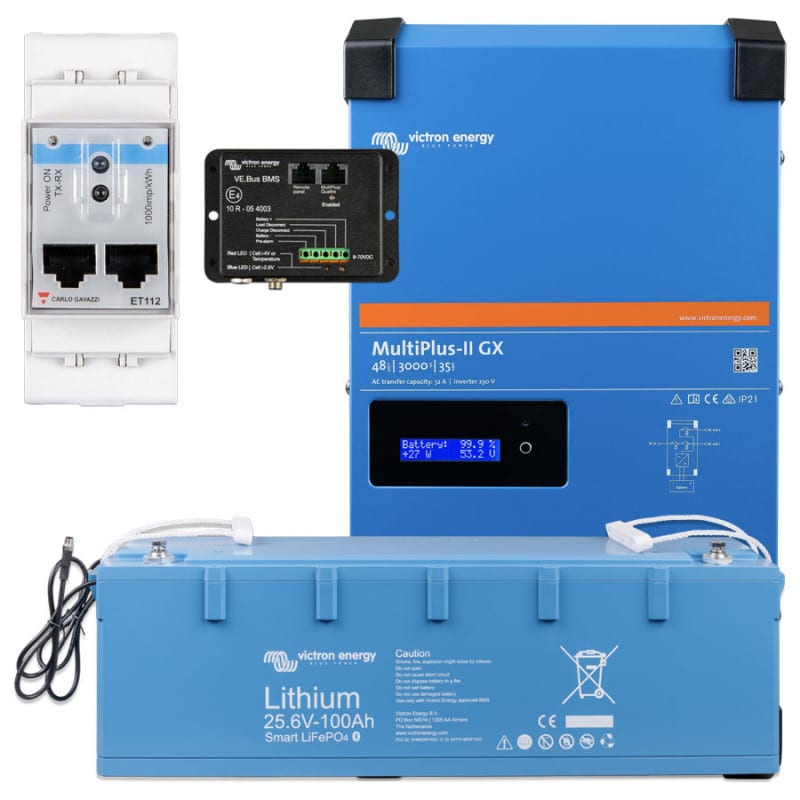 Single-phase systems. They work with any type of solar power plant. They can also work with a three-phase power plant on one phase. A UPS function is also available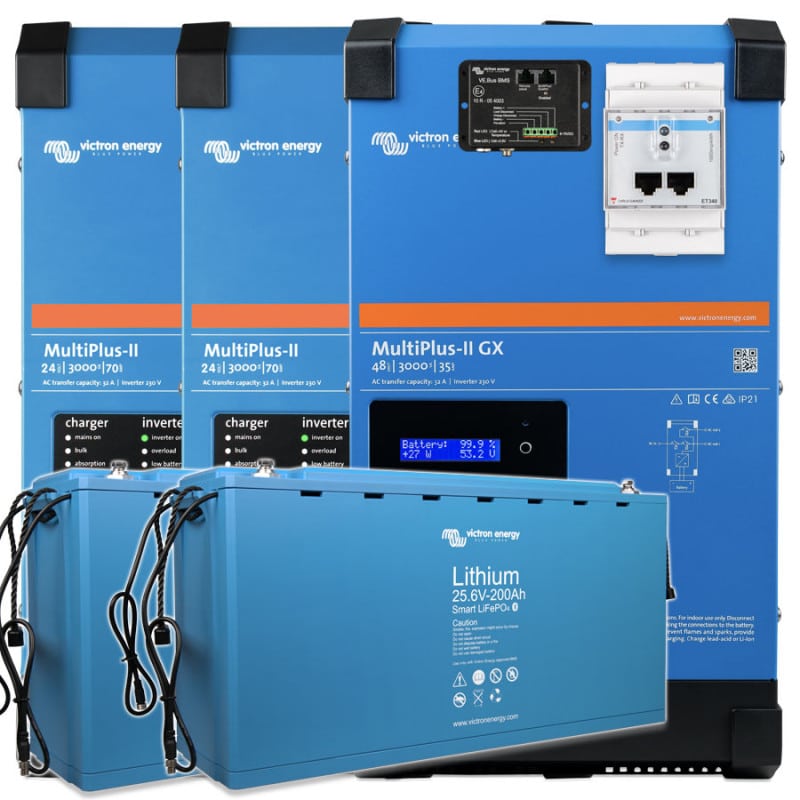 The system works with any solar power plant. It has UPS functions for all three phases. In the event of a grid failure, it supports the operation of the solar power plant.​​
Ready sets with an additional DC charge regulator supporting power supply from solar panels. The system can work fully independently or with a network. Possible single or three-phase operation.​​​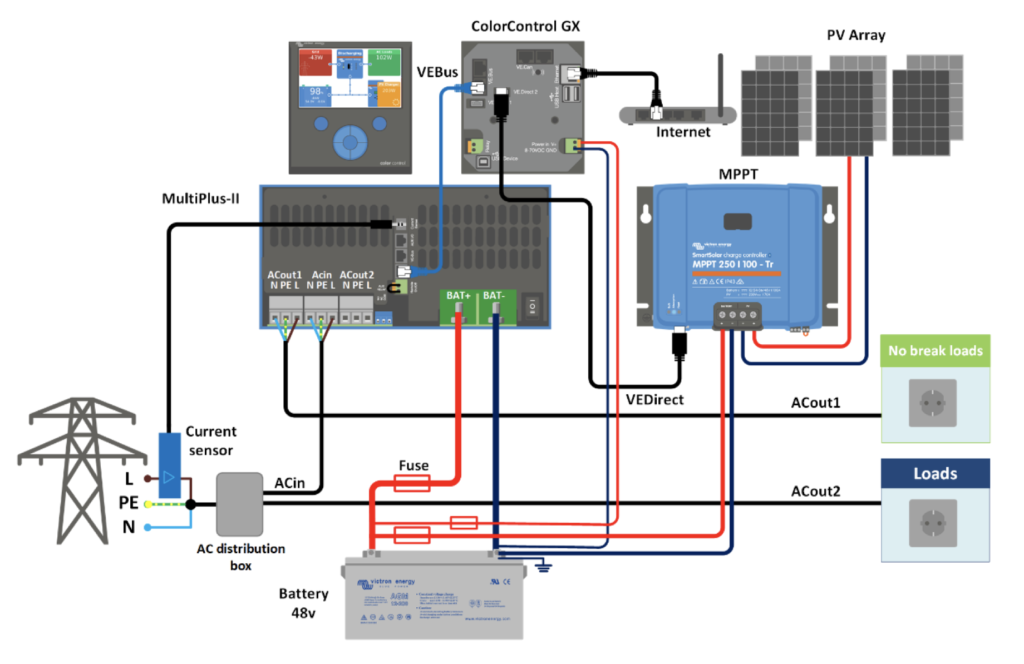 The offered energy storage can cooperate not only with devices of similar power as the system itself, but also with larger ones. The 230V AC outputs Out 1 and 2 are used for this purpose. Both are treated as one power receiver. In the event of a public grid voltage failure, the AC Out 2 output is disconnected.
It can be connected to receivers that do not require power during a power failure, e.g. an oven or air conditioning. Loads that must be uninterruptedly powered, such as light, refrigerators, internet, etc. should be connected to the AC Out 1 output. The receivers connected to AC Out 1 must not exceed the power of the energy storage inverter.